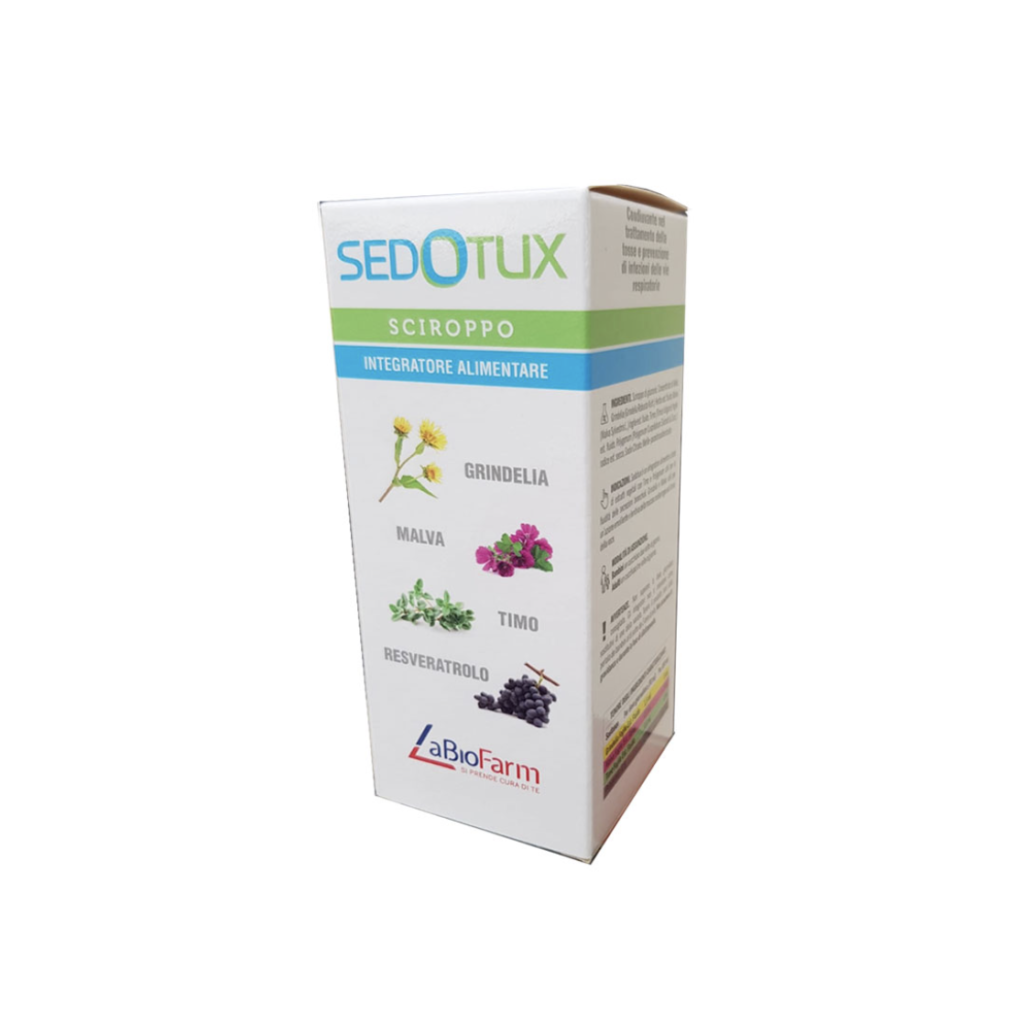 Request information for
Sedotux
The natural remedy for coughs in adults and children
Nutraceutical product based on Grindelia, Mallow, Thyme and Rerveratrol
Description
Details
Composition
Description
Sedotux is a food supplement, in the form of syrup, useful in relieving coughs in both children and adults. Its components have demonstrated expectorant, anti-inflammatory, antiseptic, antibacterial and antiviral properties. Green apple flavor.
THYME
Thyme (Thymos vulgaris) is an aromatic plant whose origins are to be found in the Mediterranean. There are many healing properties recognized for thyme, among which the disinfectant and anti-inflammatory action certainly stand out. Recognized as a natural remedy against infections since Ancient Greece, this aromatic plant finds one of its largest areas of use in respiratory diseases and diseases of the oral cavity. In the treatment of colds and coughs, the use of thyme allows you to take advantage of its balsamic and expectorant properties. Asthma and bronchitis are two other ailments that can greatly benefit from the use of this plant.
GRINDELIA
Grindelia is native to the swampy regions of California and Northern Mexico. The indigenous peoples of California used Grindelia for its expectorant, anti-catarrhal, cough-sedative, spasmolytic and soothing properties for throat irritations, well before the Jesuits and the first settlers began to take care of it and favor its entry into mainstream medicine. Grindelia has been registered in the United States Pharmacopoeia since 1882 and in the French Pharmacopoeia since 1908. The mechanism of action of Grindelia is complex, mediated by its various constituents (resins, saponins, essential oil) and is expressed at different levels of cough .
MAUVE
The first application of Mallow is certainly in the respiratory tract, where it can help in containing the symptoms of the most frequent winter diseases. From sore throats to colds, passing through flu states, the plant helps reduce swelling of the tonsils, calms coughs and is useful for unblocking a stuffy nose. This is because the mucilages contained in its extract are deposited on the irritated mucous membranes, preventing multiple infections and guaranteeing immediate relief.
POLYGONUM
The Polygonum cuspidatum plant is native to eastern Asia, and is currently widespread in North America and Europe. This plant is particularly rich in Resveratrol. Resveratrol is a powerful antioxidant and has an anti-inflammatory action as it is capable of inhibiting cyclooxygenase. It has also been shown to have antiviral activity as it inhibits the replication of the human flu virus and has an immunomodulatory action as it stimulates the activity of interleukin 10.
Details
Composition
Request information for
Sedotux