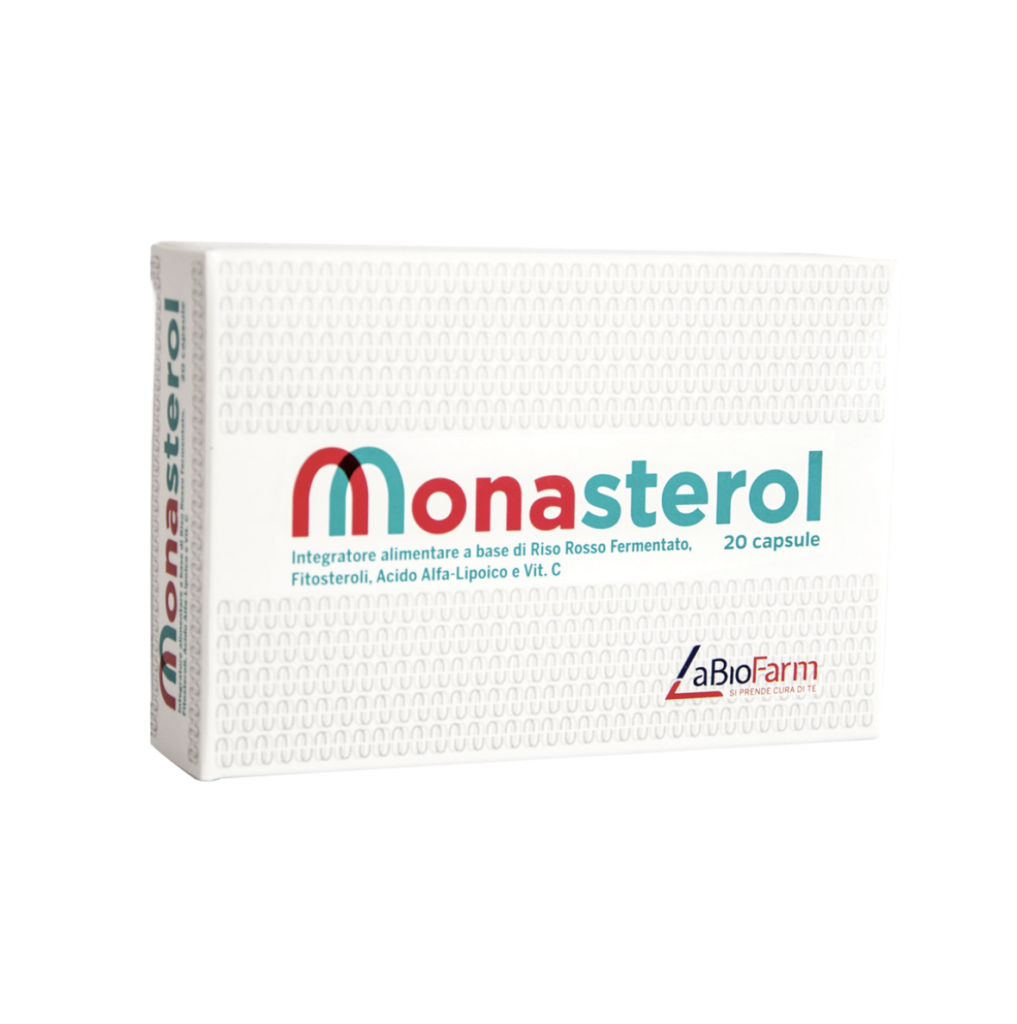 Request information for
Monasterol
For the reduction of cardiovascular risk!
Nutraceutical product based on Fermented Red Rice, Phytosterols, Alpha-Lipoic Acid, Vitamin C
Description
Details
Composition
Description
Cardiovascular diseases are the main causes of mortality in industrialized countries. Oxidative stress, caused by free radicals produced as a result of an incorrect diet and an inadequate lifestyle, causes a significant increase in the risk of incurring these pathologies.
The synergistic action of the components of Monasterol, associated with a balanced diet, help keep the level of LDL cholesterol, oxidative stress under control and therefore reduce cardiovascular risk.
MONACOLIN K, present in fermented red rice, is a natural statin that blocks the synthesis of cholesterol in the liver while maintaining a good tolerability profile
PHYTOSTEROLS They are molecules similar to cholesterol found mainly in plants, in particular in vegetable oils. They are absorbed in minimal quantities, however they inhibit the intestinal absorption of cholesterol, including bile cholesterol, favoring its elimination.
ALPHA-LIPOIC ACID has an interesting protective action on cardiovascular function as it inhibits the oxidation of LDL cholesterol. In fact, it is known that the oxidation of small LDL particles constitutes one of the main risk factors for atherosclerotic diseases and, more precisely, for the formation of the dreaded atheromatous plaque.
VITAMIN C, thanks to its antioxidant power, also contributes to avoiding the formation of atherosclerotic plaque.
In summary:
MONACOLIN K inhibits the synthesis of cholesterol in the liver
PHYTOSTEROLS reduce its absorption
The antioxidant action of ALPHA-LIPOIC ACID and VIT.C hinder the formation of atherosclerotic plaque
Details
Composition
Request information for
Monasterol