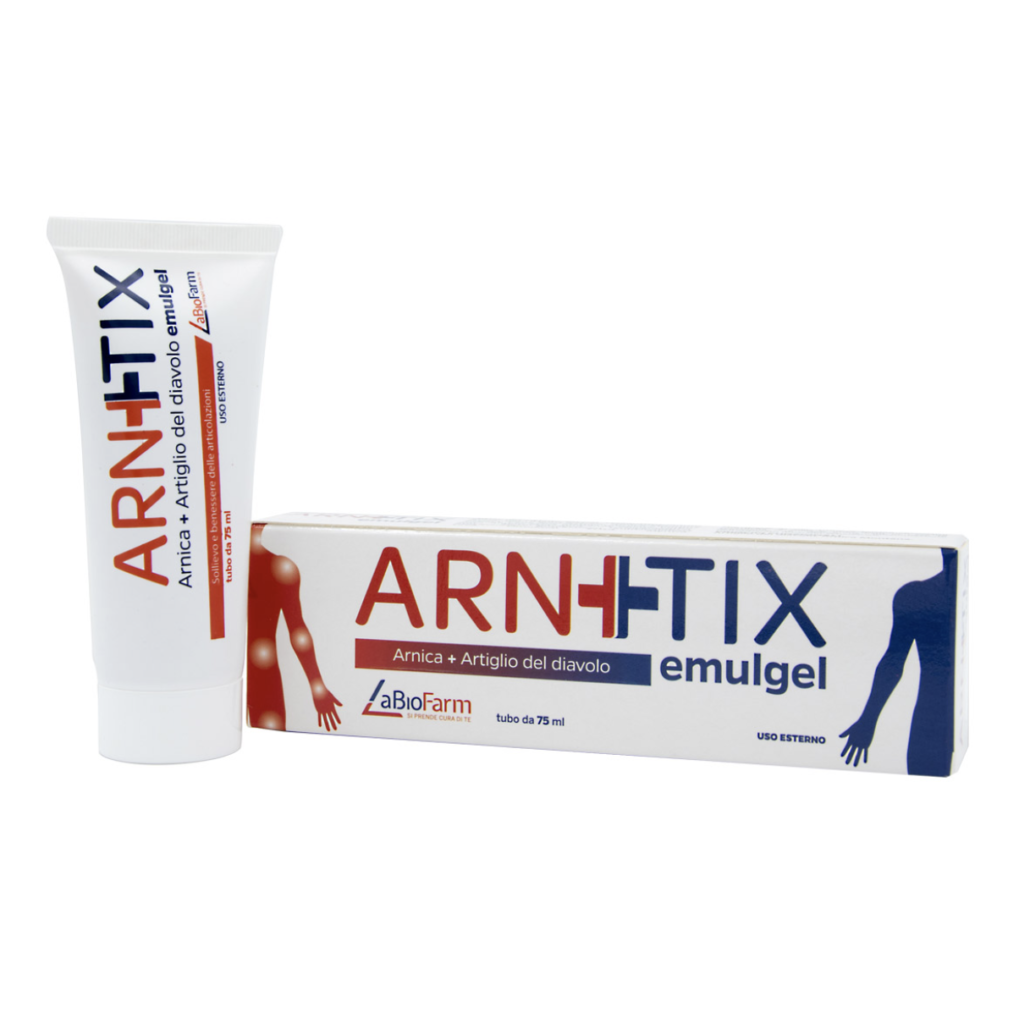 request information for
Artinix
Allies against trauma, pain and inflammation
Description
Arnica e Devil's claw
Arnitix Emulgel is a dermocosmetic preparation based on Arnica Montana and Devil's Claw at maximum concentration with the addition of Menthol, Camphor and Methyl Salicylate. Thanks to its particular formulation and the high concentration of its components it is particularly useful in relieving localized musculoskeletal pain. It can be used in sports by practicing a massage before and after the sports activity itself to reduce the risk of microtrauma.
Devil's claw: it has long been known that total extracts of Harpagophytum procumbens exert peripheral analgesic, anti-inflammatory and anti-arthritic activity. The Harpagophytum procumbens phytocomplex is now used in the symptomatic treatment of rheumatoid arthritis and osteoarthritis, osteoarthritis and other rheumatic diseases. Interesting experimental observations have demonstrated the anti-inflammatory, analgesic and antirheumatic activity of the drug. Some AA. also report the successes reported in the treatment of rheumatic disorders of the knee joint with an aqueous extract of Harpagophytum procumbens. The anti-inflammatory power is also expressed at the topical level, thanks to a high diffusion at the transcutaneous level. The German Health Commission E, in 1989, approved the use of the drug in the treatment of musculoskeletal diseases. Since 1996, the European Scientific Cooperative on Phitotehrapie (ESCOP) has recognized the effectiveness of the devil's claw in fighting pain associated with joint alterations.
Arnica: native to the mountain areas of Russia, Europe and southern America, arnica, a perennial herbaceous plant, is rich in anti-inflammatory and analgesic principles and is used by the pharmaceutical industry for the production of ointments. It is widely used in traumatology and in sports medicine. In particular it is used in traumatology, for the treatment of contusions, sprains, traumas, hematomas, edema and post-traumatic inflammation, in rheumatology for joint pain, muscle pain, arthrosis, arthritis, tendinitis and in phlebology for venous and phlebitis disorders, insufficiency venous and varicose veins. It is also used in dermatology for the treatment of insect bites, boils, inflammatory dermatoses. Arnica is one of the oldest medicinal plants mentioned by poets and writers. Some descriptions of its healing properties are found in the medical treatises of ancient Greece. It is even plausible to assume that arnica was already used in prehistoric times. This popularity among doctors of past ages has made arnica the most commonly used plant for the treatment of physical trauma. A thousand-year-old weapon against traumatic injuries, used simultaneously by traditional herbal medicine and the pharmaceutical industry, this plant has always proved effective both in the treatment of traumatic injuries (sprains, bruises resulting from trauma, etc.) and rheumatic or skin diseases.
Menthol: For topical use, thanks to its well-known refreshing and mildly analgesic properties (if applied to the skin it attenuates its sensitivity, causing cooling)
Camphor: Thanks to its revulsive, hyperemic, rubefacient and analgesic activity, it is used to treat muscle and joint pains and rheumatic pains.
Methyl-salicylate: possesses the anti-inflammatory and analgesic activities typical of salicylates. It also has a revulsive action, which is important for the analgesic effect.
Details
request information for
Artinix